About our Raleigh Family Dental Care Office
---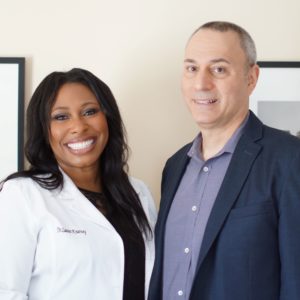 Dr. Gregg M. Festa opened his family dentistry practice in 2000.  Dr. Laura Kearney purchased the practice in 2021. Our Raleigh family dental care office is located on Falls of Neuse Road, close to Interstate 540. We provide comprehensive family dental care for patients of any age, ranging from young children to seniors. We are easily accessible for all Research Triangle residents and we welcome any and all people looking for high-quality dental care and personal customer service in North Carolina!
The quality of care provided here is second to none. We treat each patient with the attention to detail they deserve—just take a look at some of our dental patient reviews! Improving and maintaining your dental health is our primary concern. Seeing a smile on your face is the reason we love coming to work! Contact us today to learn more, and be sure to ask about our new patient special.
Let us help you achieve the smile you've always wanted!
---
Our Family Dentistry Staff
Dr. Laura Kearney (new owner)
Dentist
Dr. Laura Anne Kearney graduated Magna Cum Laude from East Carolina University with a Bachelor of
Science in Biology in 2008. In 2012, she graduated from the University of North Carolina at Chapel
Hill, earning a Doctor of Dental Surgery Degree and completed her dental implant training program at
Zimmer Biomet Institute. She is a member of the American Dental Association, North Carolina Dental Society and Old North State Dental Society.
Dr. Kearney has completed a General Practice Residency at Vidant Medical Center in Greenville, NC, where she focused on providing emergency and multidisciplinary comprehensive oral care to medically compromised patients. At Vidant Medical Center, gained experience in anesthesiology, otolaryngology, family medicine, physical diagnosis, emergency medicine and dental specialties.
Dr. Kearney enjoys playing golf with her husband and spending time with her son and daughter at the beach. In her free time she enjoys wine tasting, yoga and bike riding.
Dr. Gregg Michael Festa, DDS
Dentist
Dr. Gregg Michael Festa DDS is originally from Marlboro, NY. He attended East Carolina University for his undergraduate studies and continued his graduate studies at UNC Chapel Hill for the next four years, where he earned his degree as a Doctor of Dental Surgery.
Dr. Festa specializes in cosmetic and general dentistry and has been practicing as a dental professional since 1989, when he arrived in Raleigh. Until the opening of his current practice in 2000 he worked with other dentists in the region, where he perfected his skills in the various disciplines of modern dentistry. He loves Raleigh and has grown very fond of the local residents. Dr. Festa appreciates the loyalty & trust of the clients who visit him for dental care and realizes that success depends on maintaining honest, forthright doctor/patient relationships.
---
General Office Information
Here you can find most of the general information about our business, but don't hesitate to give us a call if you don't find what you need!
Dr. Laura Kearney
North Quarter Office Park
8410-A Falls of Neuse Road
Raleigh, NC 27615
Phone: (919) 847-3899
Fax: (919) 847-9599
Appointments
In order to maximize the efficiency of our appointment setting process, you may request an appointment using the appointment request form, or call 919-847-3899 if you prefer. If you cannot make it to a scheduled appointment, or if you will be delayed, please call as soon as possible and we will reschedule for a more convenient time.
Insurance and Billing
In order to make your visit worry free, we file all insurance (except Medicaid) claims for you. We will explain the dental benefits provided by your plan, as well as co-pay information. Please have your basic insurance information available when you call to schedule an appointment. All types of insurance are accepted. We also accept cash, check, Visa, MasterCard, Discover, American Express and Care Credit. We offer financing to qualified applicants for most treatments and surgical procedures. Payment is expected at the time of service.  At this time we are not in network with Medicaid.
Accepted Methods of Payment:
Cash
Check
Visa
MasterCard
Discover
American Express
Financing
Insurance
Now Available- Pay online! Click the "Pay Invoice" tab at the top of the page.