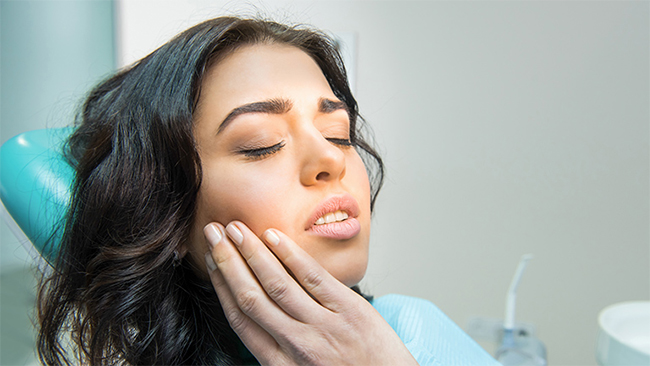 By Dr. Laura Kearney
The jaw joints consists of a ball, socket, and disk. Any component of the jaw and/or the muscles associated with it, the way your teeth move and/or come together, systemic conditions, stress or trauma can cause jaw symptoms.
The following are a few (easy, non invasive) steps that take care of the majority of jaw symptoms. A few people will need additional more invasive treatment. Consult with your dentist to find the best treatment plan for your jaw strain. Follow these recommendations during times of jaw strain, stress, pain, and/or limited opening.
Rest jaw as much as possible.

Do not clench teeth and do not open too wide. Try to minimize life's stresses.

Eat a soft diet and take small bites.

Avoid chewing gum or other chewy or tough foods.

Take anti-inflammatory medication.

Can apply ice to jaw joints immediately and up to 12 hours after jaw strain begins, approximately 10 minutes on every hour.

Can apply heat to jaw joints after 12 hours of beginning of jaw strain, approximately 10 minutes on every hour or so. You can continue for one week if it helps.

Have your dentist make you an occlusal guard and use it as directed.

Practice good posture. Good neck, head, and back posture helps maintain good jaw posture too.

When you are pain and symptom free, you may exercise your jaw. Gently open and close your mouth straight up and down. You may repeat this exercise for a few minutes in the morning and evening. You may also massage your jaw joint area.

Even when pain and symptom free, you may use your occlusal guard as a preventative measure.
Contact Dr. Laura Kearney today if you have jaw strain and would like to come into our office for an appointment.