Tooth Fillings
---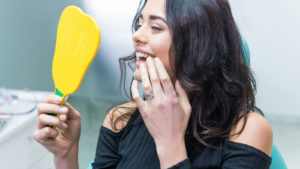 Composite (tooth colored) fillings are used to repair teeth that are under duress from decay, cracks, or fractures. The decayed or damaged portions of the teeth are removed and the space is filled with a composite, restoring your teeth to their original shape. They appear more realistic than metal fillings and they are made to correspond with the color of your existing teeth. They also strengthen your teeth, helping you avoid future root canal therapies, tooth damage & decay, and complications associated with older tooth fillings.
Reasons for composite tooth fillings:
Chipped teeth
Closing space or gaps between two teeth
Cracked or broken teeth
Decayed or decaying teeth
Worn teeth
They are very durable, and will last many years, giving you a long lasting and beautiful smile. Request an appointment with Dr. Laura Kearney to discuss the options available to you!