By Dr. Laura Kearney
How can I protect myself from dental cavities?
Dental sealants, sometimes also called fissure sealants, are an underutilized method of protecting teeth from caries (cavities) by covering up fissures and pits in the natural molar tooth shape. The procedure forms a smooth biting surface that is less prone to getting food and bacteria stuck on it. This preventative approach to cavities is a relatively low cost option when compared to reparative treatments. While the protective benefits are significant, a healthy diet and good dental hygiene that includes regular brushing, flossing and dental cleanings are still required to maintain a healthy set of teeth and remain free of cavities.
Dental Sealant Procedure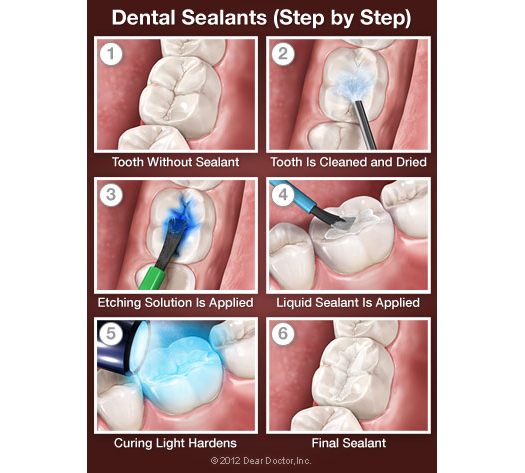 Image retrieved from: www.drsherrard.com
The process of applying dental sealants is fast and consists of four steps:
Cleaning and drying the tooth surface.
Etching the surface of the tooth using a gel that contains phosphoric acid. This allows the sealant to bond to the surface of the tooth.
Applying the liquid sealant.
Curing the sealant with a light source that is compatible with the sealant.
This process is not invasive and requires no numbing or drilling while effectively protection your teeth. The treatment is safe and not associated with any common health risks. Dental sealants can usually be applied to children as soon as they have adult molar teeth and often last into adulthood.
Durability of Dental Sealants
Dental sealant lifespan varies from patient to patient, however a lifespan of 3 years is considered successful for most people while some can last up to 10 years. As long as the sealant material stays attached to the tooth, the sealant effectively acts as a barrier from caries. At the patient's regular 6-month checkup, the sealants are inspected for wear.
We are now accepting new patients, make an appointment today or contact us to learn more about exclusive new patient offers!